Analysing customer trends @ one of the leading global brands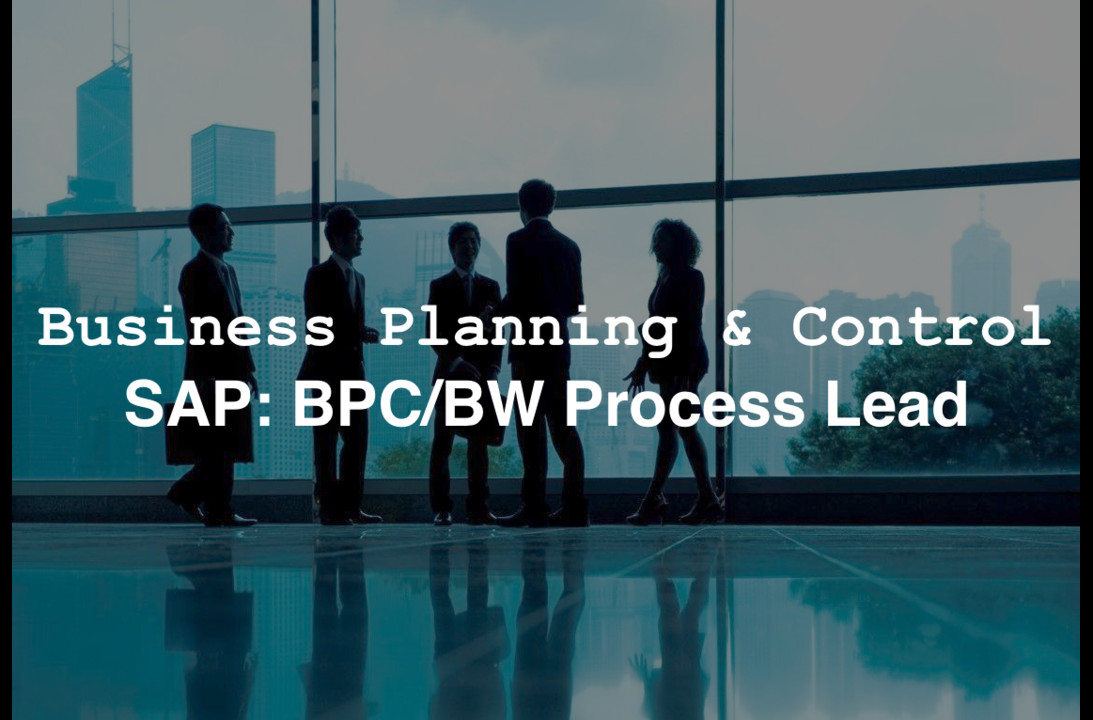 we want you excited to work with us
We distribute cutting-edge content across the world and are regarded as a leader in lifestyle entertainment. Each month we sell millions of items to a wide ranging audience from all over the globe.
why we need you
We've recently moved to a Global SAP Solution & Platform that brings a standard global process model as well as support provided by an 'in-house' offshore team.
We require a full-time SAP Planning & Control/BW Process Lead. This role is 100% business facing in a BAU environment.
The role is responsible for the overall SAP Planning & Control processes & solution which includes our BW reporting solution as well as SAP data structures and their impact on reporting
do you enjoy responsibility
You'll be responsible for owning and maintaining the integrity and consistency of the Planning and Control SAP solution and business processes across Europe and ANZ.
You'll enjoy responsibility for owning and managing SAP reporting data analysis and data structures, advising the business and the SAP team on optimum reporting solutions and best practices.
The role is to act as the P&C Process owner and representative of the company on the Global SAP Platform.
keeping you busy
As part of the responsibilities detailed above, we see the tasks as follows:
Liaise with business Global Process Owners to manage P&C change requests
Assess the risk and impacts of Global P&C SAP changes in the business
Manage the P&C and BW SAP change request process from inception through UAT and Implementation
Act as BAU SAP P&C process support for all territories to cover any queries with BW reporting/BO reporting as well as data structures and master data impacts on reporting
Ownership of key group reporting system processes
First line triage of all SAP P&C/BW calls and recommend whether they need an IT fix for IT helpdesk to refer offshore and follow up or a support query needing user guidance/support/training and move these to appropriate resolutions
Provide recommendations, guidance and SAP best practice input into SAP reporting solution design
Support finance month end closing, month end reporting and SAP system reconciliations
Maintain and own the P&C documentation and training materials
Deliver ad hoc SAP P&C and BW training in territory when required
Maintain and manage the P&C key user network across Europe/ANZ  
Liaise with the European / ANZ Finance Directors to plan reporting changes and improvements
can you do it?
Along with solid Financial Accounting understanding and SAP skills detailed below, the interpersonal communication skills will be essential to manage key stakeholders. An organised and proative individual will remain "One step ahead" in your core function of BPC/BW.
Excellent understanding of the key finance processes in SAP
Detailed knowledge of the data 'journey', how data enters and is consumed across SAP modules
SAP FI: AP, AR, Fixed Assets, New GL knowledge
SAP CO: COPA, COPL
Sound understanding of SAP BW 7.3 data modeling principles (extractors, aggregation etc);
Deep understanding and functional usage of; Bex Query designer + Bex Analyzer
SAP BPC, BW-IP, SD & MM knowledge would be highly desirable
Qualified / Part Qualified Accountant will be ideal, as this role needs to understand financial transactions and processes in detail
Excellent communication skills with the ability to liaise with both technical and non-technical finance users
Proven track record, implementing & supporting BW across multiple Countries
Experience working with an Off Shore SAP support model
next steps?
can do it? want to do it?
Call me: +44 (0773-241-3732 | EMail: asparrow@haigand.co | DM me here at LinkedIn
can't wait to hear from you,
Andrew