How To Get Started In The 4IR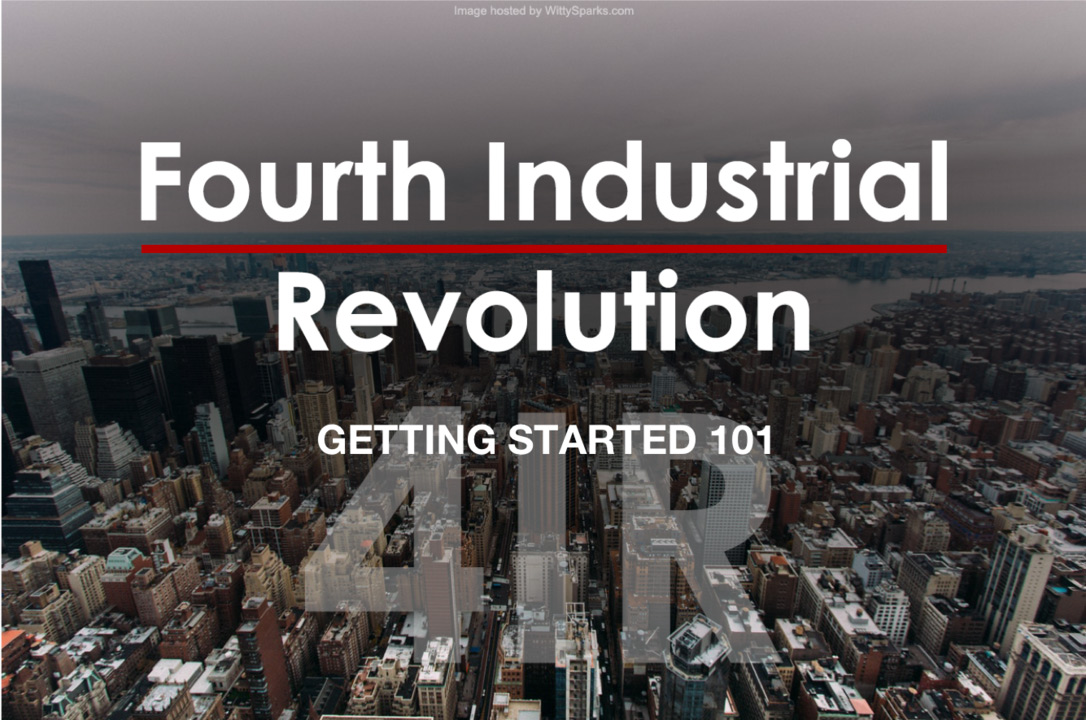 Amid the hype, how do you get started? How do you navigate the road ahead to realize the returns from the latest technologies. As an SMB it all sounds exciting, if not confusing and working through the various acronyms, then research and the wide-ranging widget selling to enterprise-wide cloud and applications salespeople leads you to wondering who or what to believe?
I'm a believer that it's "different strokes for different folks";
Be you a Large Enterprise, then the ultimate has to be the realization of the Cyber Twin / Digital Twin / E2E Cyber Physical Systems with realtime simulation models running. It is the true digital mirror of the physical world and allows you to Fail-Fast, Learn-Quicker, adapt your business to fast moving market conditions.
Be you an SMB, and in the 3IR or even stuck in the 2IR, the easiest entry is care of the IoT attached to your Manufacturing lines.
Let's look at a step by step approach......
Cutting Through The Tech Jargon
As you will have read there are somewhere close to nine elements of Industry4.0 for Manufacturing:
The Platform: The Cloud | Interoperability | Cyber Security
These components really are part of the transformation, but really not the starting point.
THE CLOUD: with great production-related undertakings requiring increased data sharing and the cloud's responsive coming down to milliseconds, it will be the standard across geographies
INTEROPERABILITY: capabilities will become more cohesive vertically and horizontally
CYBER-SECURITY: care "Security by Design" along with ever advancing AI in the security space and increasing threats and exposure, it is a fundamental part of the 4IR
The Shop Floor / The Field: Cobots | AR | IoT | Digital Twin | Additive Manufacturing
Enter the world of enhanced Field and Shop Floor operations
COBOTS: Yes, amid the drama surrounding robots, the reality is robots and now aptly named Cobots (collaborative robots), will interact with one another and work safely side by side with humans and learn from them.
AUGMENTED REALITY: AR based systems support a variety of services, such as selecting parts in a warehouse and sending repair instruction over mobile devices. As the systems mature, they'll support workers by providing real-time information to improve decision making & procedures.
IoT: Attached and embedded to components and equipment, these new smart devices will allow field/factory devices to communicate/interact both with one another and with centralized controllers in real-time.
DIGITAL TWIN/SIMULATION: used to model and leverage real-time data, mirroring the physical world care of the digitization of machines, conditions, products and humans.
ADDITIVE MANUFACTURING: while with limited materials today to longer-term potential is exciting for build, maintenance cost and speed
The Intelligence: BIG DATA | ANALYTICS
In the data economy, the various technologies are there to extract, communicate and use data for enhanced Customer Experiences, Manufacturing and Supply Chain efficiencies.
Step-1: "go / no-go"
It's become clear there are three considerable steps to be taken before deciding the enter the 4th Industrial (r)Evolution:
i. WHAT IS IT?
Understanding Industry 4.0 and the functions and capabilities of digitisation is the first step. Truly appreciating the advantages of connectivity across the supply chain, man and machine along with the various disruptive technologies is essential.
Research, attend events and go see a factory to see it in action. If you're struggling for impartial intelligence, drop me a line and I'll be delighted to help.
ii. WHAT IS RELEVANT TO YOUR BUSINESS, RIGHT NOW?
Having grasped 'i' above, you move to looking at your business and looking at the most practical introduction of a disruptive technology for your specific business readiness and industry sector.
iii. BEST PRACTICE
With so many firms around the world now moving into i4.0, best practices are forming each day. Exploring those and relating some of the good and bad experiences to your business, helps identify the best fit for the here & now. But, as i heard many times over, learn to fail fast & small, but learn quick and scale.
Step-2: The Focus Group
Having decided to move ahead into the i4.0 world, a dedicated and focused team is required. They will form the nucleus of your future digital strategy and culture. Prepared to innovate in respect of smarter products, smarter factories and smarter supply chains. The team includes intelligent, credible and passionate representation from across the organisation. Each week they will be responsible for new ideas and ready to fail with 80% of those, in the end agreeing and proving new innovative ways of working.
Step-3: Building The Recipe For i4.0 Success
You've decided to proceed, formed your i4.0 dedicated Focus Team and now, just like any of the world's most successful firms, it's time to build your recipe/formula/methodology/road-map for success.
The team builds the manual, mapping out the step by step approach to each pilot (Minimum Viable Product - MVP), its feasibility, design, implementation, go-live and post go-live recipe.
Step-4: Let's Get Started
All roads led to connectivity and data. That data once collected can be measured and the business improved in multiple ways.
"What gets measured, gets improved"
Step-1: take your existing production lines and even with its old machines, look at ways as a team to speed up the manufacturing process. Be aware, many can be through re-engineering, not just through the machines
Step-2: introduce IoT sensors/actuators
Step-3: look at how you can improve the lives of your operators
Step-4: monitor, extract data, analyze and start to locate efficiencies on the line, be it faster, better or more effective.
Step-5: develop the business case, prove the ROI and scale it
Next Steps
As mentioned above, if you're next step is to immerse yourself in the Industry4.0 technologies, and you want to learn more, I'll be delighted to assist in anyway I can.
Sharing intelligence care of my network, arranging a Smart Factory visits or just sitting down with an impartial Industry4 strategist, just let me know.
Love to hear from you, Andrew
www.linkedin.com/in/Andrew-Sparrow-4IR